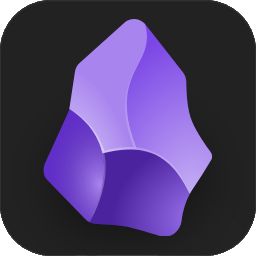 Obsidian
"Obsidian?" *three hours later* "Holy shit, this thing's amazing!"
— Lance, 2022, probably
obsidian.md (opens in a new tab)
❓ Why Obsidian
You're likely here because you've heard of Obsidian, maybe you've not heard me shut up about it, or you're just bored and fumbling through my site and it's got a cool name that stands out. Whatever brought you, welcome, now let's talk about Obsidian.
Here's why it caught my attention:
markdown (simplicity, agility, accessibility)
linking (inhibition, organization, cohesion)
freedom (customization, transparent addons, portability)
Seriously though, this is just a text editor; just like a knife is just a wedge. It's also a mind mapper, a digital vault, a code editor, a journal, and a hundred other things. You name it, and Obsidian can likely be customized to do it.
📜 Markdown
Yes, I realize you don't need a fancy editor for markdown (that's the point), but when you love markdown like I do... well, you want one anyway. The simplicity of markdown is something that shouldn't be underestimated though. If you're not familiar with markdown (opens in a new tab), it's essentially a way to format text using simple syntax that's still readable with the markup (or 'down', I guess). I love that Obsidian not only supports this out of the box; it's its lifeblood. It's like the speed dial for my writing. Want to make a word bold? Just wrap it in double asterisks and you're done. It's an elegant way to make formatting less intrusive to the writing process.
_19
Yep, that's pretty much it.
_19
You can make lists like this:
_19
You can link to things like
_19
[this](https://obsidian.md).
_19
## Subheading to 'What's markdown?'
_19
You can make things **bold**,
_19
I think you get the idea.
🔗 Linking
if md is the lifeblood of Obsidian, linking is its heart and soul. One of the things that immediately grabbed me was the ability to create links between documents. It's like a choose-your-own-adventure story for your thoughts, ideas, references, whatever. Writing a thought in one document and realizing it's related to another? Just link them. Have an internal question about something you wrote to yourself, link it and create the new not when you remember. The brilliance here isn't just the linking; it's the effortless way it allows your thoughts to weave together with as simple of a syntax as [[this]]. Yep, it's just wiki-links all day.
🛠 Customization
As a tinkerer, I've sunk more hours into customizing Obsidian than I care to admit. This thing has addons for days. You can completely change its behavior to be how you do things.
One of the biggest hurdles I have modding an app or game, is when I can't know what's running that the original devs didn't put there themselves. Obsidian's addons are open source.
The other big sticking point for me on customization, is ease of discovery and use. Finding, downloading, and installing addons is built directly into Obsidian, so it's as easy as installing extensions in VS Code.
Writing software with mods and no Vortex; lol.
💋 Aesthetics
It looks sleek on its own, but when you start adding themes, addons, and custom CSS, it just keeps getting better. And you know, I'm a sucker for a good dark mode. I actually think releasing an app without a dark mode should be a crime. Sure, sure. Dark mode shouldn't even be an option; it should be the standard, I know. Obsidian nailed it. There are no (that I've found, anyway) awkward standard Windows chrome elements sneaking in like in a lot of native apps. Nope. Just a yummy electron app that actually cares about how it looks. It's not just a color swap; it's a thoughtful, well-designed dark mode that's easy on the eyes and makes you feel like the badass you are.
💵 Pricing
While the core product is free (and that's fantastic), the optional Sync and Publish features feel a bit pricey to me for what they are. I do pay for Sync because it makes accessing my vault on mobile seamless, and it's a good way to support the developers. I certainly am not trying to dog on the devs here; I just think the pricing is a bit steep for what you get. I think Sync should honestly be half of what it is, and paid yearly instead of monthly. And I'd likely be more inclined to pay for Publish if it were a one-time fee, or at least based on traffic. As it stands though, but I'm not paying $8 a month for something I can do for free with very little elbow grease. I'm not saying it's not worth it; I'm just saying it's not worth it to me.
📱 Mobile & Sync
If you're thinking of using Obsidian on your phone, it's absolutely possible thanks to the Sync feature. Yes, it's a paid feature, but it makes transitioning between devices so seamless that it justifies the cost—for me, at least. Plus, it supports the developers, and for a product this good, that's something I don't mind doing.
🤔 Conclusion
So, is Obsidian worth it? Absolutely. Whether you're jotting down a quick note, brainstorming a complex project, or penning a novel, Obsidian is a great tool; a robust, customizable tool that lives up to the hype and then some. Sure, the Sync and Publish features could be cheaper, but they're optional. The core experience—which is rich, rewarding, and exceptionally well-designed—is absolutely free.
So, if you're looking for a way to get your thoughts down, get your already-jotted shit organized, and you want something that you can get lost in instead of fight through, give Obsidian a try; you'll probably like it.